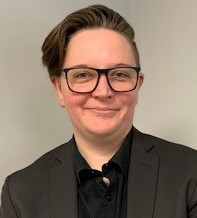 I focus my practice on family law, with an emphasis on listening to my clients about their goals, educating my clients so that they can make informed choices, and employing the most efficient legal strategy to obtain the best results for my clients.
Prior to joining Andalman & Flynn, P.C., I served as a judicial law clerk at the Superior Court of the District of Columbia. I began clerking for both the Honorable Shana Frost Matini and the Honorable Adrienne Jennings Noti before clerking solely for Judge Matini. Throughout my time at the Court, I worked with the Judges on criminal, family, and civil calendars. As a law student, I was an authorized student attorney that represented clients in family law and immigration matters. I also interned at Whitman Walker Legal Health Services, where I assisted counsel on both immigration and gender-affirming matters.
I was born and raised outside of Philadelphia. I moved to New York City to attend Fordham University, where I received a Bachelor of Arts in Political Science. I remained in New York City after graduating from Fordham before eventually moving to this area and earning my Juris Doctor from American University Washington College of Law.
Professional Experience
Andalman & Flynn, P.C., Associate Attorney (February 2022 – Present)
Budow and Noble, P.C., Associate Attorney (September 2021 – February 2022)
Judicial Law Clerk to the Honorable Shana Frost Matini, Superior Court of the District of Columbia (September 2018 – September 2021)
Judicial Law Clerk to the Honorable Adrienne Jennings Noti, Superior Court of the District of Columbia (September 2018 – September 2019)
Student Attorney, Gender Justice Clinic (Formerly Women and the Law Clinic) at Washington College of Law (August 2017 – May 2018)
Gender Justice Clinic (Formerly Women and the Law Clinic) at Washington College of Law, Legal Intern, (May 2017 – August 2018)
Whitman Walker Legal Health Services, Legal Intern (May 2016 – August 2016)
Education
American University Washington College of Law, Juris Doctor, cum laude, 2018
2018 Clinical Legal Education Association Student of the Year (WCL)
Fordham University, Bachelor of Arts, 2006
Majored in Political Science
Court Admissions
Bar Associations
American Bar Association
Bar Association of Montgomery County
Women's Bar Association of Maryland
LGBTQ Bar Association of Maryland